Digital Opening Event CAIM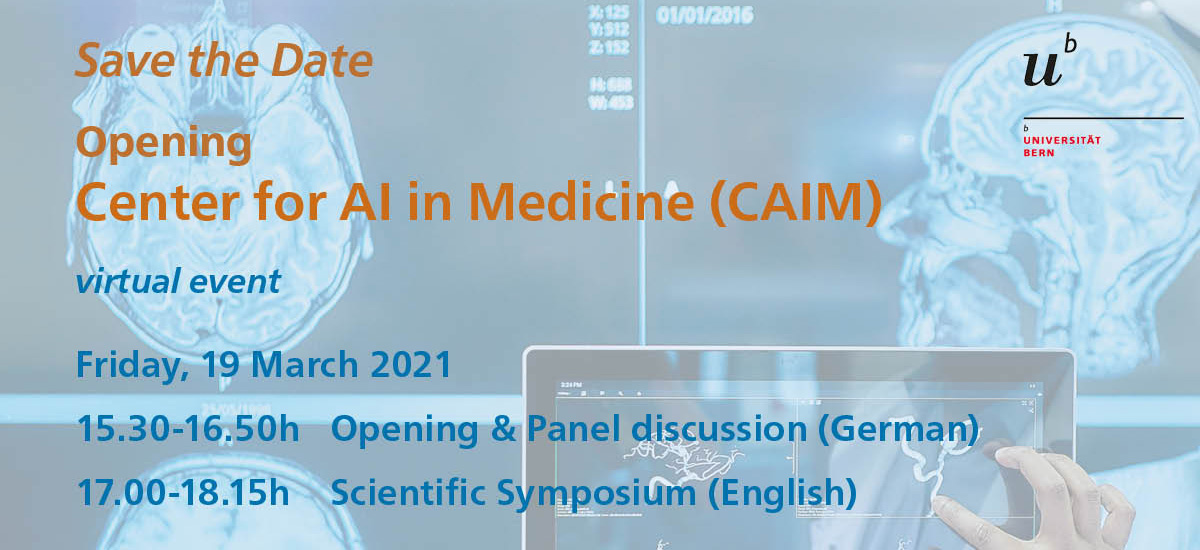 Welcome
Join us online for the official opening event of our Center for Artificial Intelligence in Medicine, hosted by the Swiss Institute for Translational and Entrepreneurial Medicine, sitem-insel!
The digital event has two parts: A German-language Opening featuring representatives of the University of Bern, Bern University Hospital, politics and and our Center Project Manager. Also look forward to a panel discussion between stakeholders from the clinic, MedTech industry, healthcare administration, patient advocacy and ethics, moderated by SRF anchor Sonja Hasler.
In the second part, be excited for insights into AI research for medicine in Bern: Our scientific symposium in English offers you a glimpse into the research at the various institutions in the Bern Biomedical Engineering Network, covering topics as diverse as emergency medicine, epidemiology (COVID-19), neuroimaging, digital pathology and pediatric psychiatry. In a special feature, we have invited Gregory D. Hager from Johns Hopkins University, a real authority in the field, to give a keynote.
Early registration is open and we look forward to welcoming you virtually on 19 March 2021!
Save the Date!
Friday, 19 March 2021 (via Zoom, CET)
15.30-16.50h Opening Center for AI in Medicine & Panel Discussion
(German)
17.00-18.15h Scientific Symposium with Keynote by Gregory D. Hager
(English)
Opening Event (German)
Time
Subject
Speaker
15.30h
Moderation
Sonja Hasler, SRF Moderatorin
15.30h
Begrüssung
Christian Leumann, Rektor Universität Bern
15.35h
Begrüssung
Uwe E. Jocham, CEO Insel Gruppe AG
15.40h
Grussworte
Christine Häsler, Regierungsrätin, Erziehungsdirektion Kanton Bern
15.45h
Digitalisierung und die Rolle der Medizin
Claudio Bassetti, Dekan Medizinische Fakultät, Universität Bern
15.55h
Ärztinnen und Ingenieure im Team: Das CAIM
Raphael Sznitman, Project Manager Center for AI in Medicine (CAIM)
16.05h
Einspieler
Unis weltweit gratulieren
16.10h
Podiumsdiskussion "KI, müssen wir die Medizin neu erfinden?"
Guido Beldi, Chirurg Inselspital

Stefan Weber, Ingenieur CAScination


Bernhard Pulver, VRP Insel Gruppe


Susanne Gedamke, Geschäftsführerin Schweizerische Patientenorganisation


Nikola Biller, Biomedizinische Ethikerin


16.45h
Verabschiedung
Sonja Hasler
16.50h
Einspieler
CAIM Educational Offers
Scientific Symposium (English)
Time
Subject
Speaker
17.00h
Opening
Raphael Sznitman, CAIM & ARTORG Center for Biomedical Engineering Research, UniBE
17.05h
The Potential of "Big Data" in Personalized Mental Healthcare
Michael Kaess, Child and Adolescent Psychiatry, University Psychiatry Services
17.15h
Computational Science in the COVID-19 Pandemic
Christian Althaus, Institute of Social and Preventive Medicine, UniBE
17.25h
Keynote:

AI for Human Health: Achieving the Promise While Avoiding the Perils

Gregory D. Hager, Malone Center for Engineering in Healthcare, Johns Hopkins University
17.45h
Digital Pathology Repositories: A Deep Learning Paradise?
Inti Zlobec, Institute of Pathology UniBE
17.55h
AI in the Wild: An Invitation to Translational Investigations
Wolf Hautz, Department of Emergency Medicine, Inselspital
18.05h
Machines as Clinical Partners: Translational Neuro-Imaging
Roland Wiest, Support Center for Advanced Neuroimaging, Inselspital
18.15h
Closing Remarks
Raphael Sznitman
Registration
CAIM Opening 19 March 2021
Publicly open event free of charge.